Product Description
Product Specification:
8inch wall mounted/floor standing/door gate access control Face recognition IR thermometer
Item

A8 A1

A8 B1

Basic specification

Application

Wall mounted

Gate Brake

Working Temperature

-10ºC-55ºC

Working Temperature

10%

~90%

Water Proof

IP54

Size(mm)

238x128x21

439x128x21

Frame material

Aluminium alloy

System

System

Andriod 6.0

CPU

Dual channel DRAM controller,64 bit 4-core ARM chip

Storage

2GB + 8GB

Screen

8'' IPS screen,

Resuoltion

800*1280

Focal length

4.3mm

Camera

Binocular camera, 200W pixel, wide dynamic support

IR thermometry

Thermometric range

32ºC-45ºC

Thermometric precision

0.1ºC

Thermometric tolerance

≤ ±0.5ºC

Thermometric distance

50cm

Recognition
performance

Recognition distance

0.5-1.5m

Recognition time

≤ 300ms

Face database capacity

1

:N (N<=20000)

Accuracy rate

0.997

Outer port

Power port

1*DC12V, DC005 male connector 2.1*5.5

USB Port

2*USB2.0

Relay output

1*switch output, 2 Pin 3.8 Spacing terminal

Network port

1*RJ45 network connector

Wigan output port

1*WG output

Gate magnetic signal

1*magnetic detection

Fire fighting linkage

1*Fire fighting linkage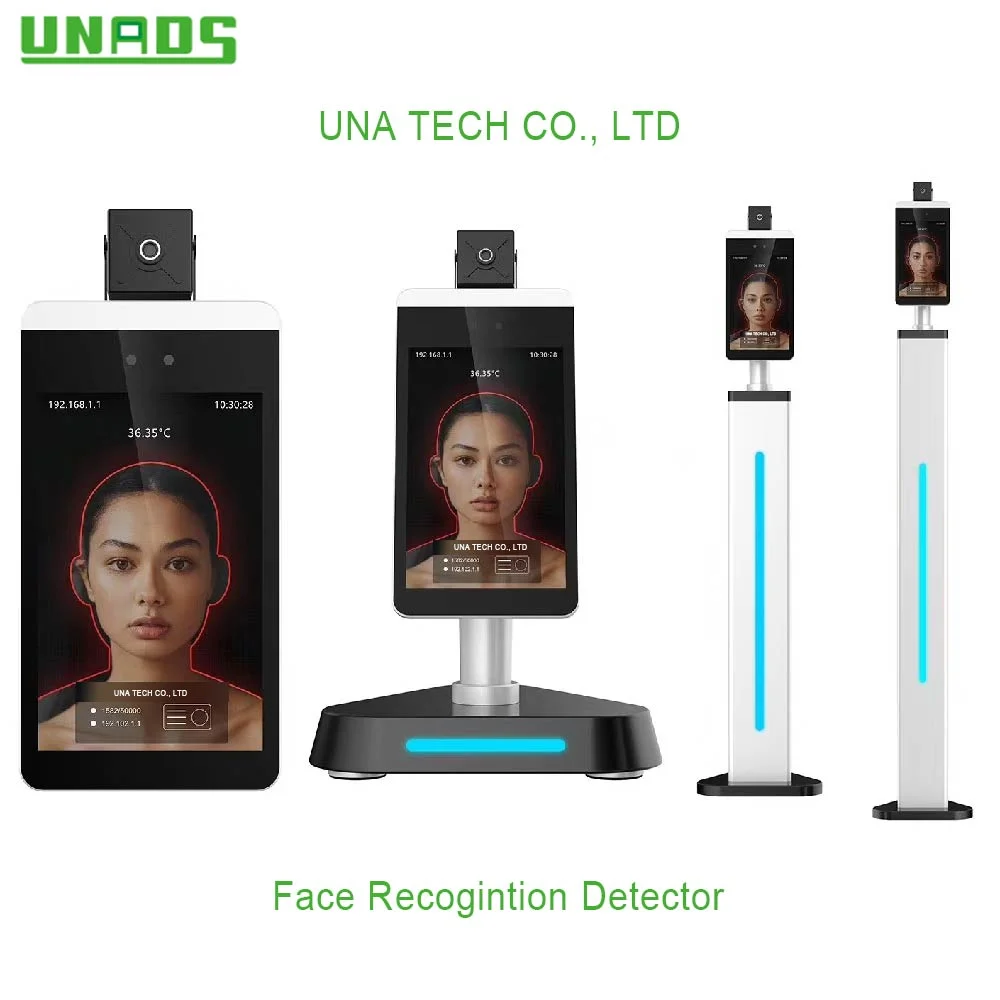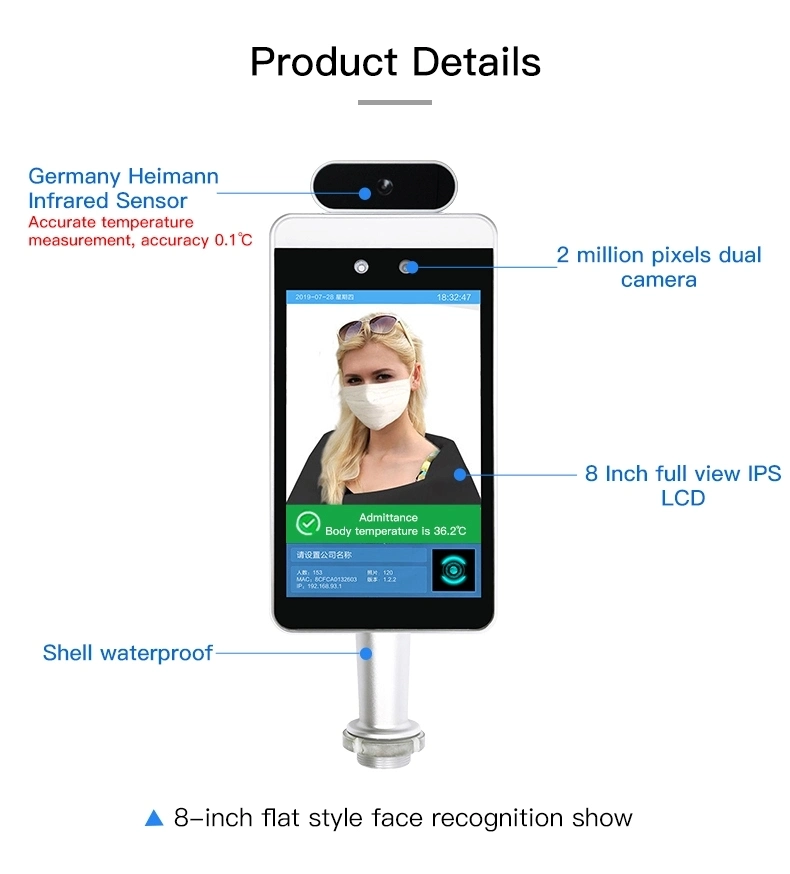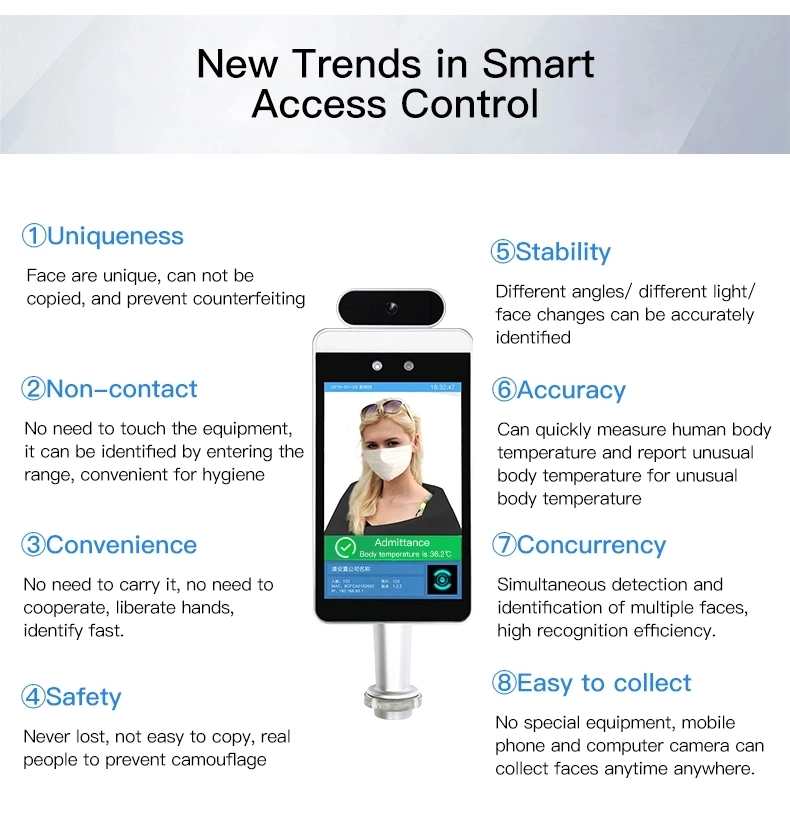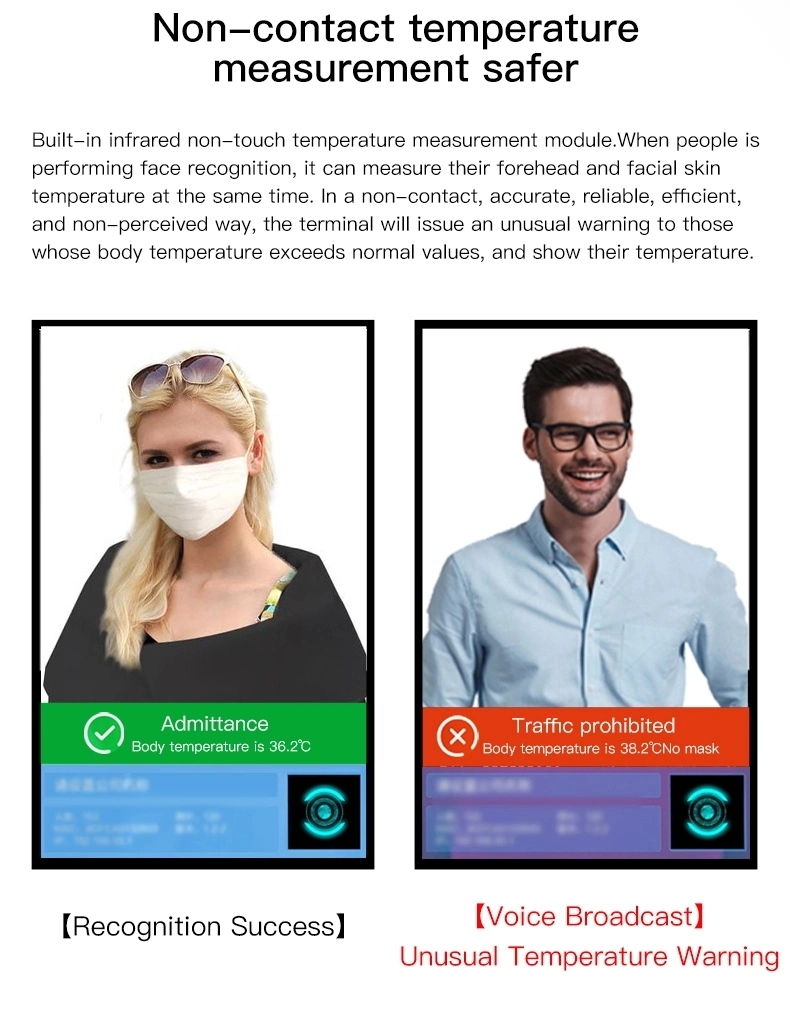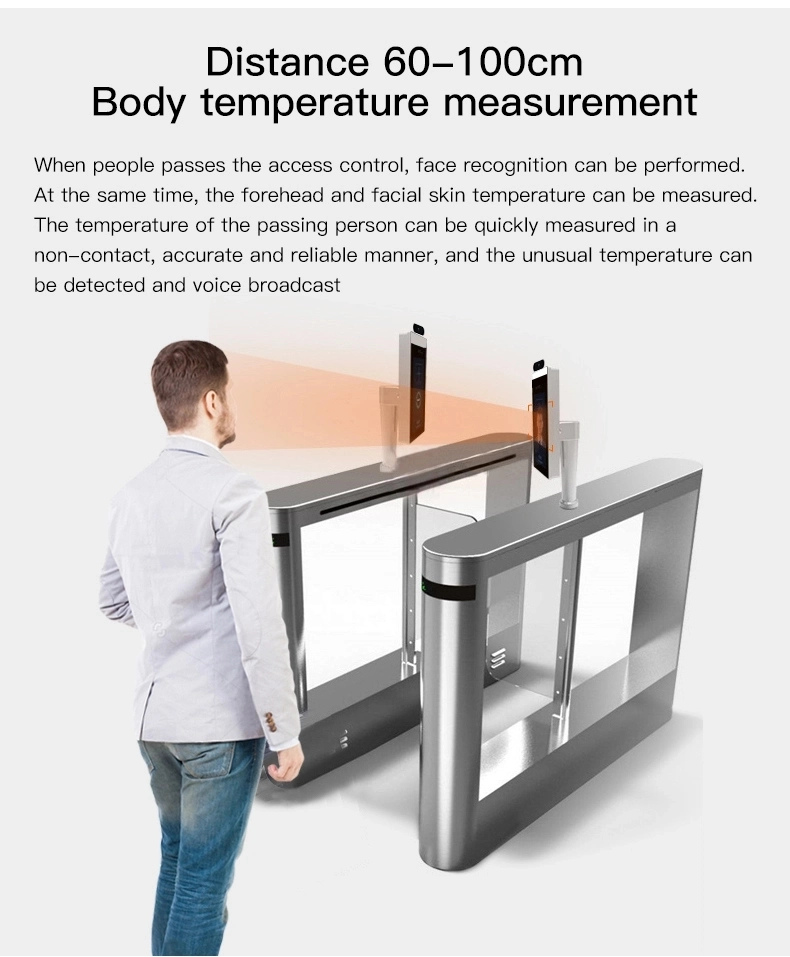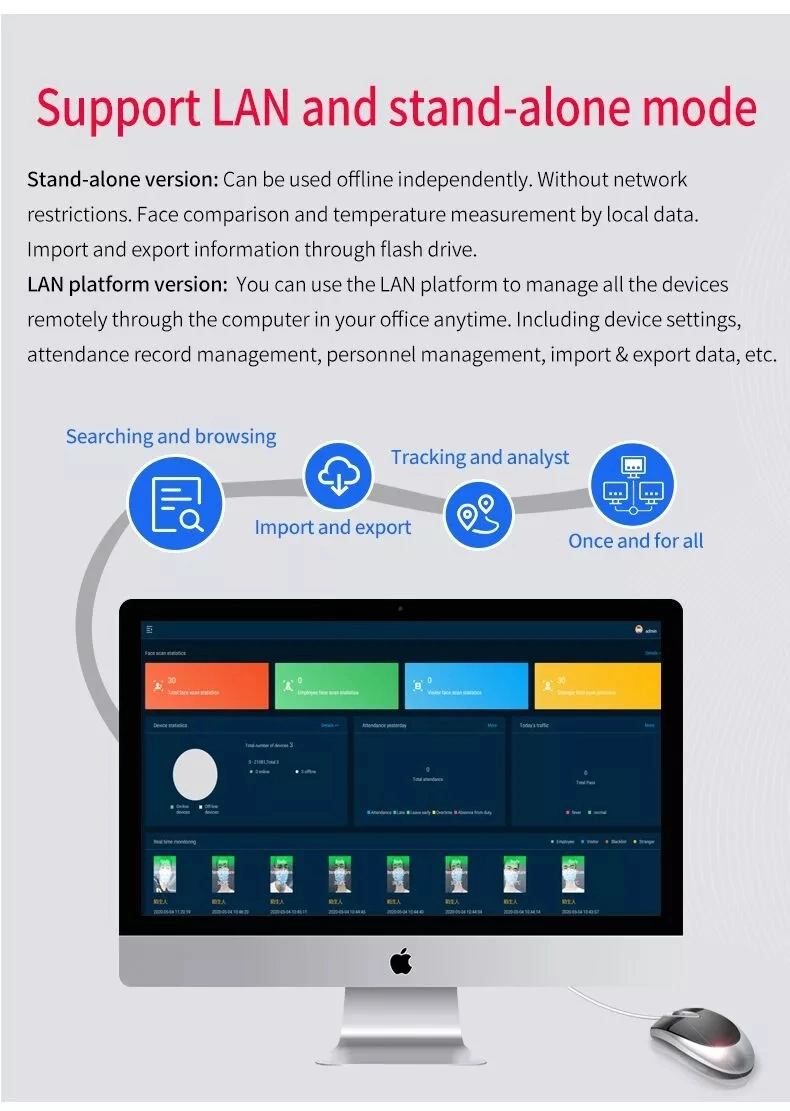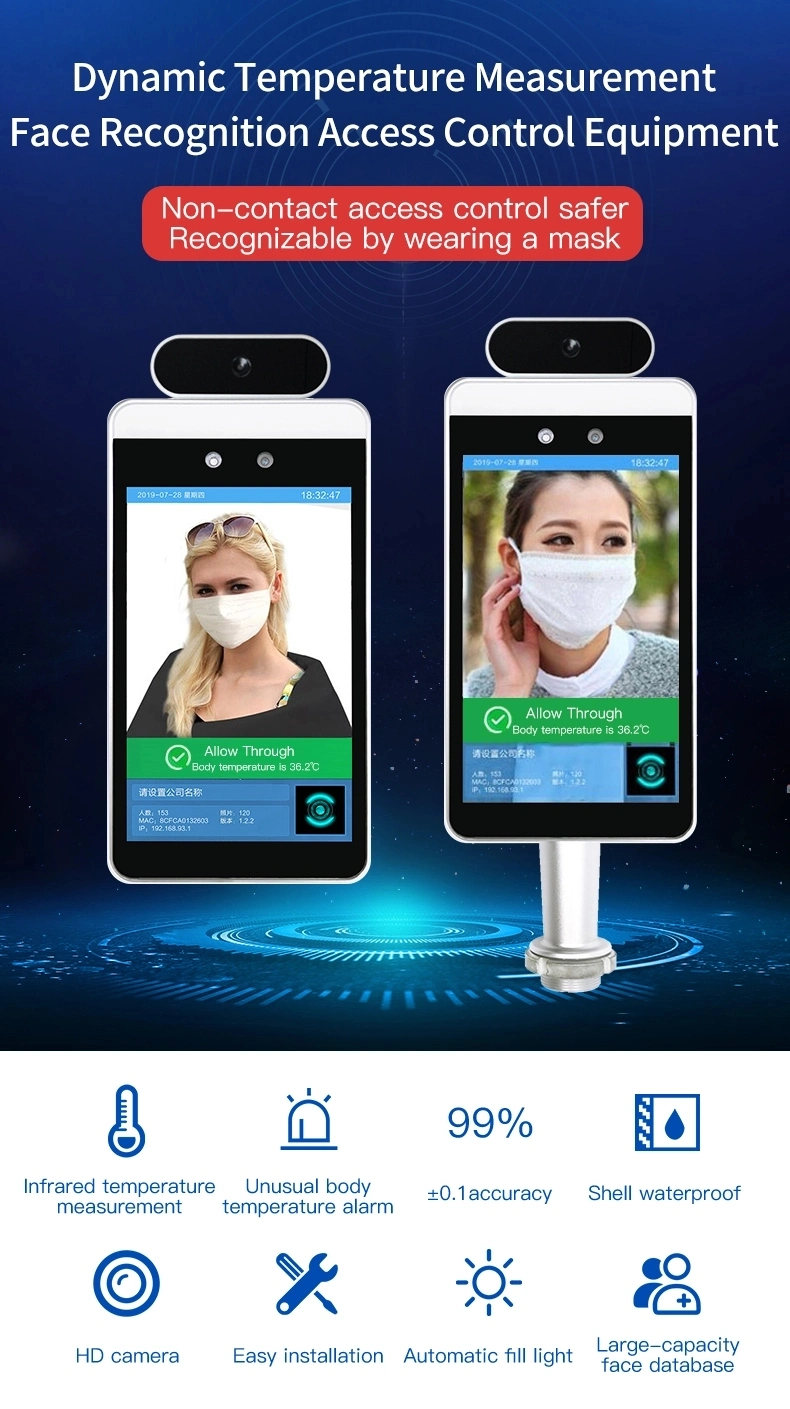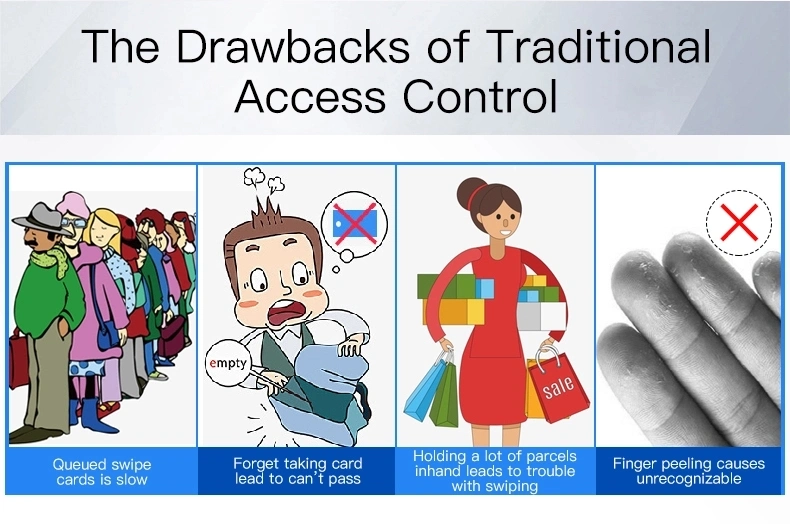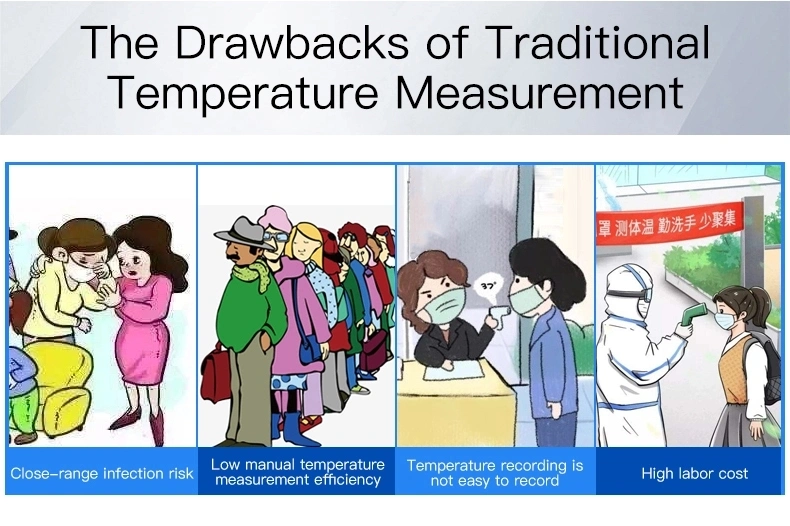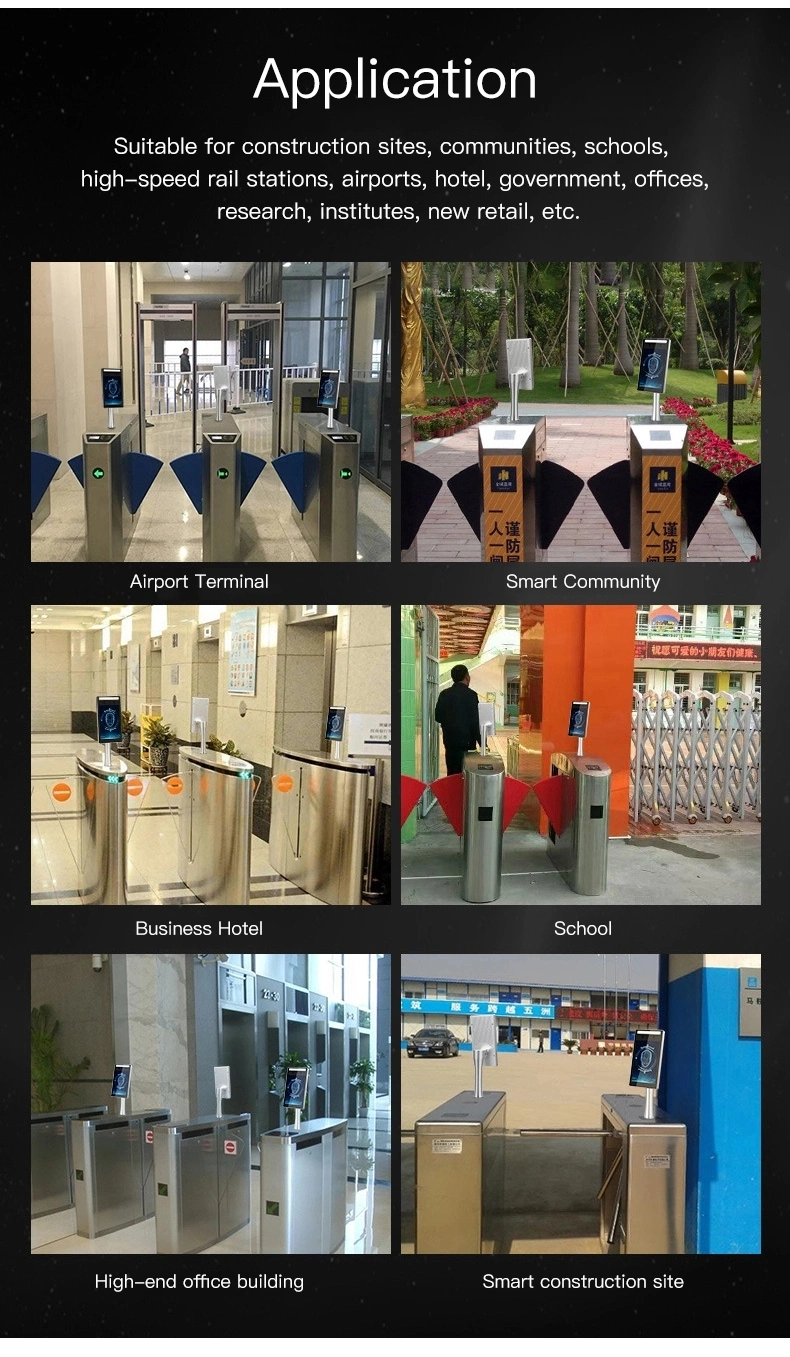 Exhibitions:


Certificates:

Product features:
Offline face recognition technology,recognize yellow,white or black, etc race;

Support White list access of face recognition

,

Black list alert

,Taking pictures when people pass through,etc functions.

Support to

recognize if people wearing mask or not, Realize directional humanized voice prompt,Strengthen the awareness of prevention.

Support to connect with high precision infrared temperature detection module, realize non contact self-service measurement of human body temperature,Reduce the risk of cross infection.

Support abnormal temperature voice alarm, and stop passing through.

Support to manage passing record for body-temperature,visitor, white list, etc centralized management of background PC system, real-time data could be traced.

Support to connect with IC/ID card reader at outside, realize the function of person witness function.

Support to detect binocular living body, prevent photo attacking.

Self service face collection and batch import list,saving time for list management.

Customized voice, personalized voice broadcast.

Support image and video advertising display.

Up to 150000 data (circular write).

Support remote upgrade and USB

upgrade of management end.

Support

2nd

development connecting, with extra connector ports.

High end aluminum alloy material, surface oxidation process.
Thermometric type Face recognition Digital screen
Provides real-time data support,It provides a strong security guarantee for the
management in the above scenarios
A8 is a high performance binocular thermometric face recognition terminal(digital screen),Integrated offline face recognition,Temperature detection,Mask recognition,Identity verification,Live face collection,Blacklist alert,tak
ing
pictures
when pepole passed
,In vivo detection
,etc functions, adopt Wide dynamic HD face recognition camera,Fully adapt to harsh environment such as strong light, backlight and weak light, with fast recongition, hight accuracy rate,Large capacity of list Library, etc characteristic. Be able to match Real name management system for face construction site,Face access attendance management system,Visitor management system etc Application management system useage. Applicate for Community, campus, hospital, scenic spot, hotel, shopping mall, enterprise office building, public service
Place, construction site, etc which need to monitor body temperature, identity recognition and Access control for complicated application scene.
During special period, to reduce the potential risk by Large area contact with human body during thermometry, to shorten thermometric time, to improve thermometric efficiency. Meanwhile centralized management to offer real-time data support for screening and tracing suspected patients and floating
p
opulation, It provides a strong security guarantee for the management in the above scenarios.