Heavy Duty Plastic Paint Barrels IBC Trash Can Recycling Shredding Granulator
Descriptions
The DGH Heavy Duty Granulator has a centrally hinged two-piece cutting chamber with a robust welded steel construction, with the upper and lower sections of the housing meeting horizontally. Reversible stator knives with double cutting edges are fitted as single elements to the lower section of the housing, allowing multiple re-sharpening and adjustment of the stator knives. There is a hinged screen cradle and hinged door for easy screen access.
The rotor is a heavy duty paddle type design with knife cover plates to protect the blades when processing abrasive applications. The knife mounting bolts are screwed into the mounting plates as opposed to the rotor. All knives are manufactured from chrome nickel tool steel as standard, but when processing applications that are particularly abrasive the DGH granulators can be fitted with a specially designed wear resistant rotor utilizing wear resistant steel parts and hardox facing.
The v-cut cutting geometry offers distinct advantages over other rotor designs, including higher throughput with reduced power consumption, better quality cut, and lower noise levels. Specially designed knife setting jig means that the knives can be adjusted from outside the machine, significantly reducing the downtime required to change/set knives.
The base frame has a solid welded construction with anti-vibration rubber feet to reduce vibration and noise. The drive motor is mounted on tension rails to allow easy adjustment of the V-belt tension. Integrated suction trough for material discharge. Specially designed hopper with 3 sets of curtains to prevent material flybacks. Integrated rundown safety device prevents access to the rotor until it has come to a complete stop. A safety switch prevents machine startup when the front panel is open and the machine features emergency stop buttons on the machine body and control panel.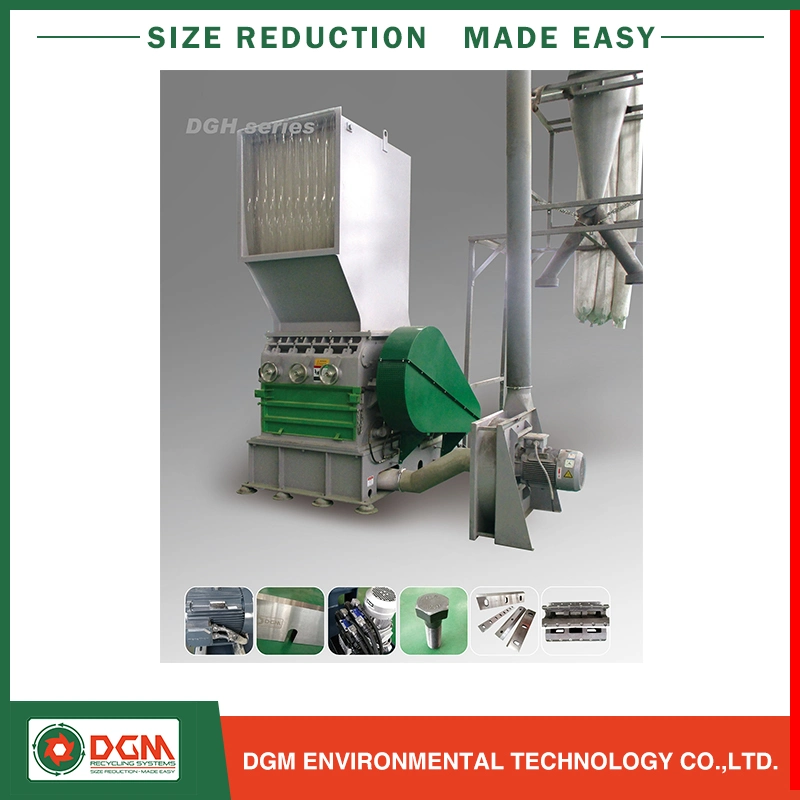 Specificatoins
Item
UNIT
DGH350/500
DGH500/600
DGH600/800
DGH500/1000
Rotor Diameter
mm
350
500
600
800
Rotor Width
mm
500
600
800
1000
Rotor Knives
pcs
3*2/5*2
3*2/5*2
5*2/7*2
3*2/5*2
Stator Knives
row
2/3
2/3
2/3
2/3
Cutting Chamber Dimensions
mm
516*640
636*590
790*695
985*590
Motor Power
kw
15-22
37-55
55-90
55-90
Dimensions
A
mm
1800
2080
2300
2230
B
mm
1600
1850
2100
2000
C
mm
1250
1530
1850
1950
D
mm
770
940
1120
1350
E
mm
2500
2620
3000
2860
Item
UNIT
DGH700/1000
DGH800/1200
DGH800/1600
DGH800/2000
Rotor Diameter
mm
700
800
800
800
Rotor Width
mm
1000
1200
1600
2000
Rotor Knives
pcs
5*2/7*2/9*2
7*2/9*2
7*4/9*4
7*4/9*4
Stator Knives
row
2/3
2/3
2/3
2/3
Cutting Chamber Dimensions
mm
985*800
1150*915
1570*915
1960*915
Motor Power
kw
75-110
110-160
132-200
160-200 *2
Dimensions
A
mm
2800
3100
3140
2740
B
mm
2500
2800
2800
2600
C
mm
2060
2800
2800
3460
D
mm
1290
1960
1960
2250
E
mm
3420
4250
4250
4775
Layout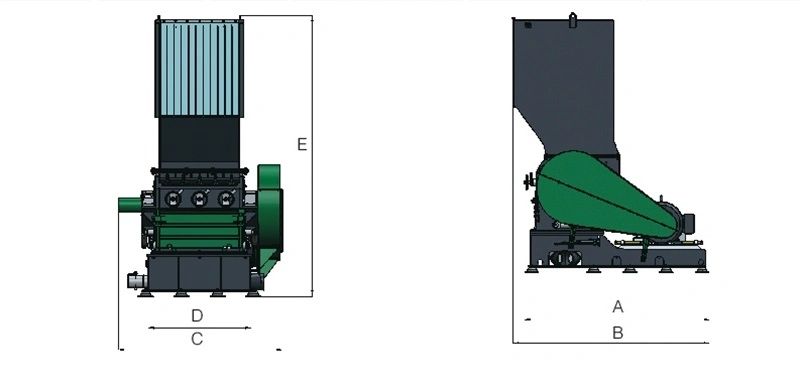 Features
Deflector wedge - V-cut technology

Heavy duty bearings

Oversized external bearing housings

Knives are externally adjustable

Robust welded steel construction

Wide choice of rotor variations

Electrical hydraulic control - to open housing

Electrical hydraulic control - to open screen cradle

Replaceable wear plates

Amp meter control
Options
Extra flywheel

Double infeed hopper

Roller feeder

Mounted screw feeders in hopper Winding protection

Metal detector

Metal separator

Bespoke colour scheme

Increased motor drive
Applitions
PLASTICS

RUBBER

WOOD

BIOMASS

PAPER

ALTERNATIVE FUELS (RDF/SRF)

DOMESTIC & COMMERCIAL WASTE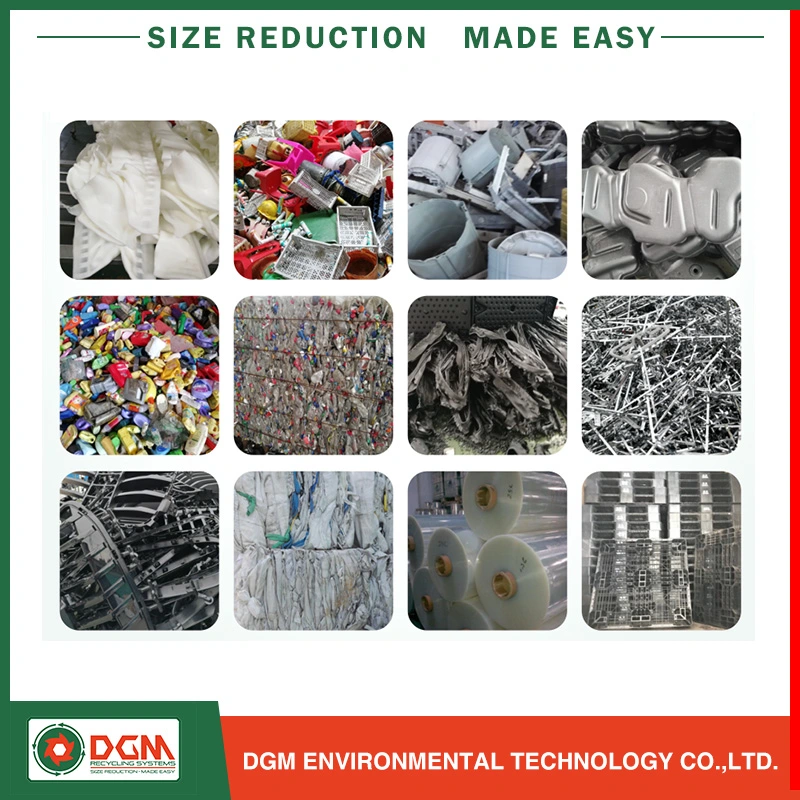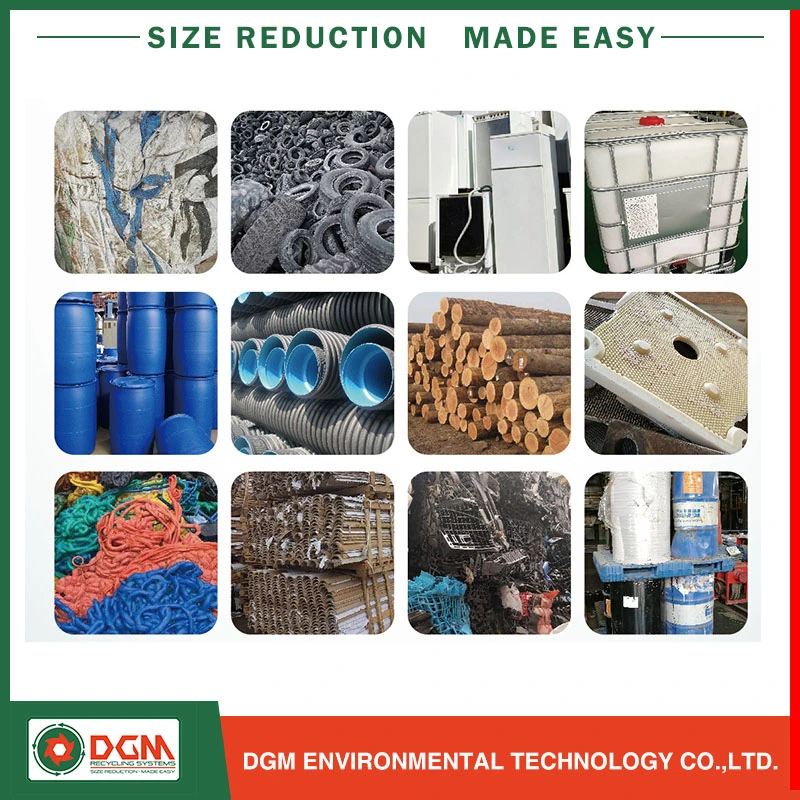 Factory
Since its foundation DGM Recycling Systems have been at the forefront of innovation and technology in the development of cost effective and reliable recycling solutions. As a wholly owned subsidiary of Miracle Automation Engineering Group, a pioneer in automation systems for the automotive and material handling industries, DGM continues to strive for excellence in the field of size reduction and recycling.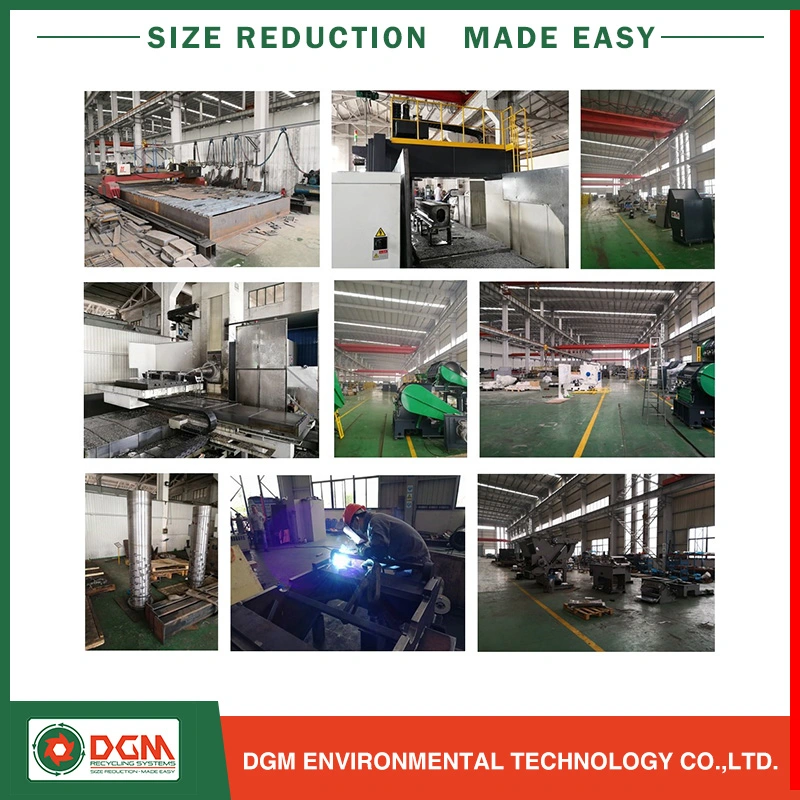 Suppliers

Certificates
All of our shredders and granulators have been approved CE certification.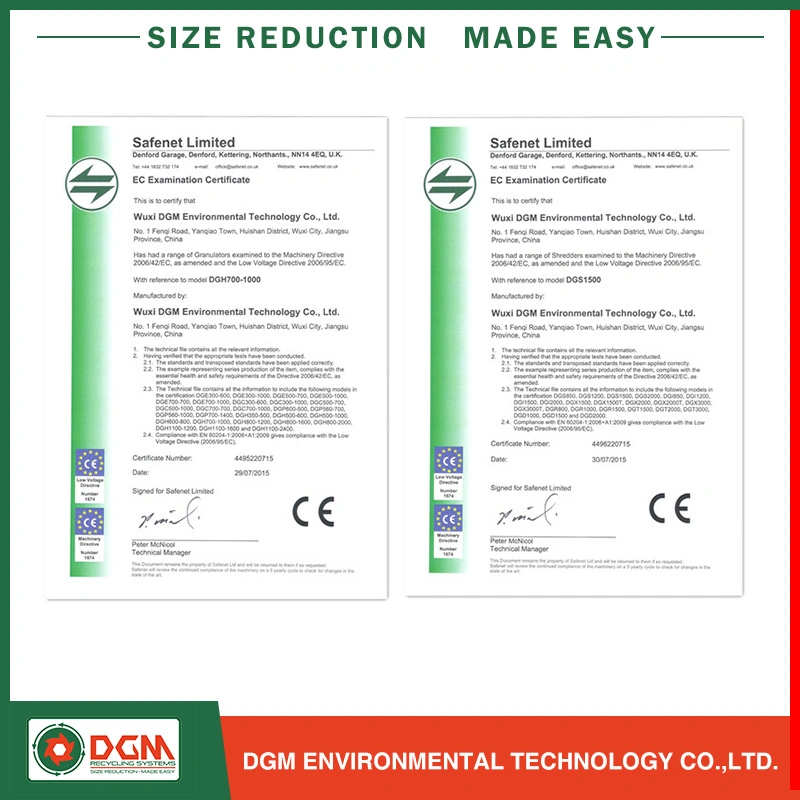 Packaging & Loading
1. Several layers of plastic wrapping film and cardboard to protect plastic recycling machine from dust and moisture.

2. Plastic packing strap belt to fasten wrapping film and machines, also to fix machines in containers.

3. Wooden case is used as the outside package and spare parts when choosing by LCL, air or international express.

4. Excellant logistic team to guarantee the shredder and granulators machines to be safely shipped to customers appointed loaction.

5. If you have any other request for the packaging or loading, we will try our best to meet your demands.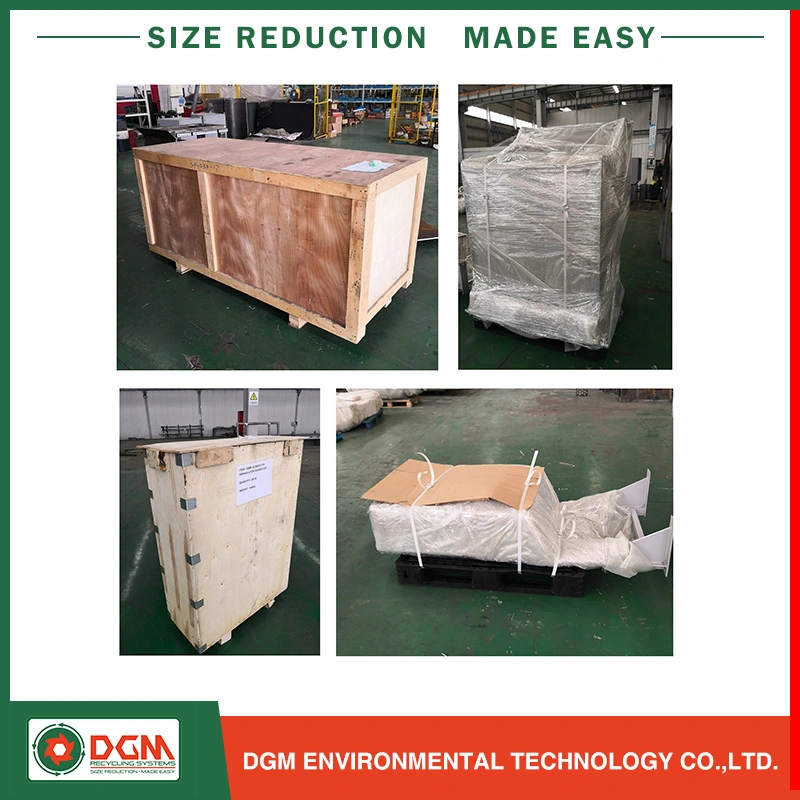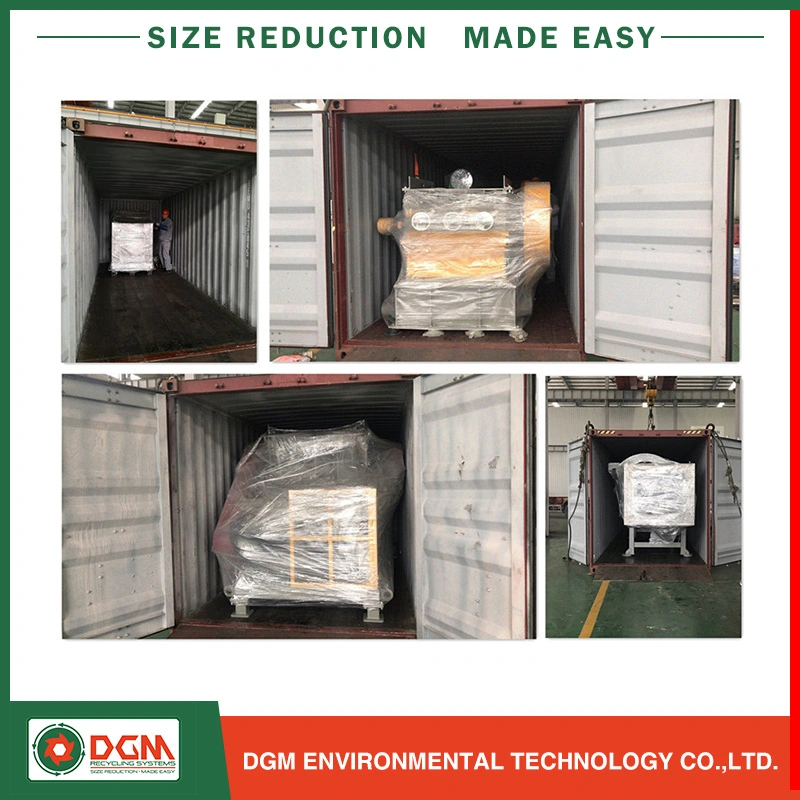 FAQ
Q1: Are you a trading company or a factory ?


DGM is a Factory with 10 years experience in machinery manufacturing, and 20 years experience in technology.



Q2: Will you provide pre-sale services?
DGM consists of experienced specialists, we will offer a suitable solution according client's requirement in time.



Q3: Is your after-sales service excellent?


At DGM we have a highly trained team of service personnel to handle all manner of customer service enquiries. Whether it is replacement parts, technical assistance, or just general operation advice we offer our customers genuine 24/7 support and after sale service.
We have an international network which ensures wherever you are in the world you receive localized high level support.
Our technical team has decades of experience in the field of size reduction and recycling and we are on hand to offer assistance in installation, commissioning, staff training and general technical assistance.
Q4: Where is your factory?
Address: No.1.Fengqi Road, Huishan District , Wuxi City, Jiangsu Province, China



Q5: What is your contact informatoin?


Fax: +86 510 8357 0210
Telephone: +86 510 8357 2002
Mobile : +86 18762812155

Q6: Could we visit your factory and test the machine?


We warmly welcome you to visit our factory anytime,and we are very glad to test our machine with your raw material.